March 3, 2022
We would like to thank Allina Health for their $1,000.00 donation to Cokato Charitable Trust. This donation along with many others will go towards the purchase of a new 6 passenger disability van. This van will be used to take our residents to various civic and social outings throughout the year.
Thank you Allina Health!
November 12, 2021
Dear Family Members of Cokato Manor,
Communication is key and we aim to continue to update you on any news, emerging issues, or changes in our operations.
Please know we follow all federal and state guidelines and recommended practices to stop the spread of COVID-19. While caring for residents in isolation, staff follow guidelines for wearing full protective equipment including medial gowns, eye protection, and masks. Staff are restricted to work solely in their units.
Although families are continually notified of their loved ones condition, please know that we are bound by Federal guidelines under Health Insurance Portability and Accountability Act (HIPAA), which protects the privacy of our resident and limit our ability to share information about other residents.
We encourage loved ones to communicate with residents by phone or video chat. We are having very limited visits by Essential Caregivers. Realizing both the potential benefits and risks of allowing additional individuals into the building.
PLEASE CALL 612-703-9208 with ANY questions regarding visitation. If you have concerns, please let us know or you can also call the Office of Ombudsman for Long-term Care at 800-657-3591.
Thank you for your support and understanding as we get through this together. It's during these times that we are grateful for our community's positive spirit that shines through every day – with residents, with staff, and with family and friends.
If you have questions or concerns, please call Ashley Green, RN, DON at 320-532-5427 or Tammi Dahlman, LSW at 320-552-3035.
PLEASE SHARE WITH ALL FAMILY AND FRIENDS.
Sincerely,
Tammi Dahlman, LSW
320-552-3035
tdahlman@cokatoseniorcare.com
---
OCTOBER 23, 2020
---
AUGUST 1, 2020
Click below to listen to a recording of our LIVE KRWC BROADCAST from our Cokato campus.
---
FEBRUARY 19, 2020
Operation Round Up, (ORU) is a voluntary program where Wright-Hennepin Electric members can have their electric bill rounded up to the nearest dollar.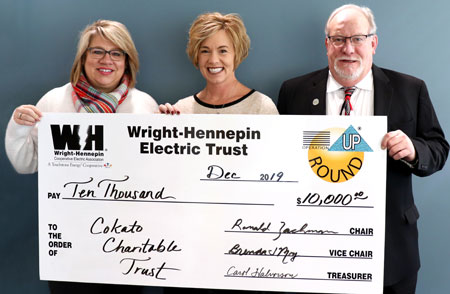 Those funds are then distributed to the community through ORU in the form of grants. ORU presented Cokato Charitable Trust with a $10,000.00 grant to be used towards the purchase of a disability van for its residents.
Picture from left to right presenting the check is Brenda Moy, Vice-Chair of the Wright-Hennepin Electric Trust Operation Round UP, Joy Marschel, Activity Director of Cokato Charitable Trust and Patrick Rafferty, Administrator/CEO of Cokato Charitable Trust.
All of us at Cokato Charitable Trust wish to thank Wright-Hennepin Cooperative Electric for their wonderful gift.​​