AUGUST 1, 2020
Click below to listen to a recording of our LIVE KRWC BROADCAST from our Cokato campus.
JULY 8, 2020
Dear Family Members,
Thanks to you, our staff and community are managing the risks of COVID-19 well at Cokato Manor. We have good news to share about outdoor visiting options and open window visits starting June 29th, 2020.
As a result, the Minnesota Department of Health has provided guidance, on visiting in our outside areas. Indoor visits will continue to be limited to essential health care personnel and compassionate care situations for now.
Here are the details of our Outdoor/Open Window Visiting program.
Outdoor and Open Window visits – will be available: Monday – Friday 10:00 a.m. to Noon and 2:00 p.m. to 4:00 p.m. Also on Saturday from 10:00 a.m. to Noon.
The outdoor visits, will be in designated areas in front of the building. The open window visits, will be conducted only through the main windows of our front lobby.
The Visitor and Resident must wear a mask, hand sanitizer to be used prior/post visits. The visitor will be screened prior to visits.
To continue protecting everyone from potential virus transmission, we ask that you avoid hugs, handshakes and other physical contact, we know that will be hard.
During your visit, we'll ask you to read a description of the visit requirements, agree to follow those instructions and accept that there is some COVID-19 risk even in these protected situations. See our Outdoor Visitation Restrictions and Instructions form.
For more specifics on what to expect, see Frequently Asked Questions document.
How do I schedule my visit?
To schedule a visit (Outdoor/Open Window/Closed Window Visit or Video Chats)
Contact: Joy Marschel, Activity Director
Direct Line: (320) 552-3586
Email: jmarschel@cokatoseniorcare.com
Tammi Dahlman, Director of Social Services
Direct Line: (320) 552-3035
Email: tdahlman@cokatoseniorcare.com
Thank you again for being partners with us in fighting the COVID-19 virus. Your messages of support, prayers and patience will not be forgotten. There may be more challenges ahead, and we may need to make adjustments as we roll-out our new Outdoor Visiting program. If you have ideas on how to make it better, please do not hesitate to reach out to me at (320) 552-3035 or tdahlman@cokatoseniorcare.com
Sincerely,
Tammie L. Dahlman, LSW
Director of Social Services
---
FEBRUARY 19, 2020
Operation Round Up, (ORU) is a voluntary program where Wright-Hennepin Electric members can have their electric bill rounded up to the nearest dollar.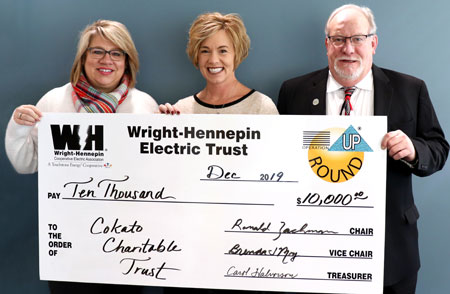 Those funds are then distributed to the community through ORU in the form of grants. ORU presented Cokato Charitable Trust with a $10,000.00 grant to be used towards the purchase of a disability van for its residents.
Picture from left to right presenting the check is Brenda Moy, Vice-Chair of the Wright-Hennepin Electric Trust Operation Round UP, Joy Marschel, Activity Director of Cokato Charitable Trust and Patrick Rafferty, Administrator/CEO of Cokato Charitable Trust.
All of us at Cokato Charitable Trust wish to thank Wright-Hennepin Cooperative Electric for their wonderful gift.​​