June 18, 2021
Visiting Policy
You must:
1) Screen at the kiosk in the main entry.
2) Pass the COVID screening and wear the visitor sticker at all times.
3)PPE to be worn at all times while walking throughout the facility, a surgical mask will be provided.
4)Hand Hygiene should be performed before and after contact.
Visitors must go directly to/from resident room or designated area and remain there for the duration of the visit, avoid all common areas and remain socially distanced from others.
*If Vaccination status cannot be determined, the safest practice is for all participants to follow all recommended infection and prevention control practices including maintaining physical distancing and wearing source control.
---
OCTOBER 23, 2020
---
AUGUST 1, 2020
Click below to listen to a recording of our LIVE KRWC BROADCAST from our Cokato campus.
---
FEBRUARY 19, 2020
Operation Round Up, (ORU) is a voluntary program where Wright-Hennepin Electric members can have their electric bill rounded up to the nearest dollar.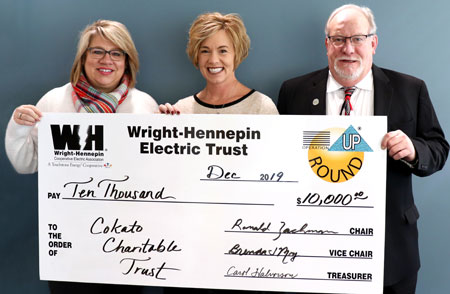 Those funds are then distributed to the community through ORU in the form of grants. ORU presented Cokato Charitable Trust with a $10,000.00 grant to be used towards the purchase of a disability van for its residents.
Picture from left to right presenting the check is Brenda Moy, Vice-Chair of the Wright-Hennepin Electric Trust Operation Round UP, Joy Marschel, Activity Director of Cokato Charitable Trust and Patrick Rafferty, Administrator/CEO of Cokato Charitable Trust.
All of us at Cokato Charitable Trust wish to thank Wright-Hennepin Cooperative Electric for their wonderful gift.​​