Effective September 13, 2021 Visitation Policy Cokato Manor
At Present NONE OF THE RESIDENTS OF COKATO MANOR HAVE TESTED POSITIVE FOR COVID
We are continuing the Visitation Protocols. All visitors MUST be screened using the kiosk at the front entrance. Key components in screening questions related to' contact with individuals infected with COVID and travel outside the state.
If visitor has had close contact in the prior 14 days with someone infected with COVID regardless of vaccination status: If answer is Yes – NOT ALLOWED TO ENTER
If visitor has traveled outside the state or country in the last 14 days. If answer is YES AND HAVE NOT BEEN VACCINATED – NOT ALLOWED TO ENTER. If HAVE BEEN vaccinated ALLOWED TO ENTER.
During Indoor visitation, visitor movement in the facility is limited – visitors should go directly to the resident's room or designated visitation area. Visits for residents who share a room should not be conducted in resident's room.
While taking a person centered approach outdoor visitation is preferred even when the resident and visitors are fully vaccinated against COVID-19. Outdoor visits generally pose a lower risk of spreading the disease. Visits should be held outdoors WHENEVER FEASIBLE.
If you believe you have been wrongly denied visitation you may contact the Ombudsman for Long Term Care at 651-431-2555.
PROCEDURE WHEN ENTERING
Screening In: use kiosk; ALL visitors need to be screened (including children) by entering a phone number or date of birth if needed (birth date example: 01-02-1950).
ALL must wear visitor badge stickers at all times during visit.
PPE (provided surgical) masks must be worn at all times (regardless of vaccination status).
Hand Hygiene must be performed frequently before entering or exiting the building.
Visitors should stay in designated areas. (limited number of quests to permit social distancing)
If resident has a roommate (alternate space will be assigned for your visit)
No visitors allowed in dining room during meals (encouraged to limit visits during mealtimes).
Outdoor Visiting Guidelines:
Limit number of guests to promote social distancing
Questions/Concerns about visiting please contact:
Ashley Green, RN, DON
320-552-5427
agreen@cokatoseniorcare.com
Tammi Dahlman, LSW, DSS
320-552-3035
tdahlman@cokatoseniorcare.com
Technology/Virtual Visits:
Zoom, FaceTime, Skype, email, phone call, Video Chats all need to be prearranged
To Schedule contact:
Joy Marschel, Activity Director
320-552-3568
jmarschel@cokatoseniorcare.com
Information is subject to change related to COVID-19 cases amount Residents or Staff
---
OCTOBER 23, 2020
---
AUGUST 1, 2020
Click below to listen to a recording of our LIVE KRWC BROADCAST from our Cokato campus.
---
FEBRUARY 19, 2020
Operation Round Up, (ORU) is a voluntary program where Wright-Hennepin Electric members can have their electric bill rounded up to the nearest dollar.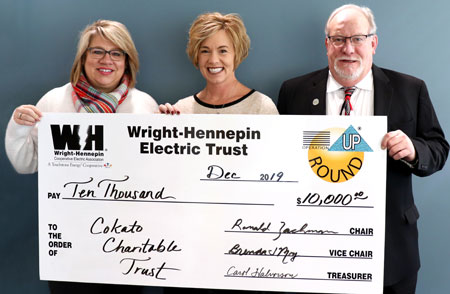 Those funds are then distributed to the community through ORU in the form of grants. ORU presented Cokato Charitable Trust with a $10,000.00 grant to be used towards the purchase of a disability van for its residents.
Picture from left to right presenting the check is Brenda Moy, Vice-Chair of the Wright-Hennepin Electric Trust Operation Round UP, Joy Marschel, Activity Director of Cokato Charitable Trust and Patrick Rafferty, Administrator/CEO of Cokato Charitable Trust.
All of us at Cokato Charitable Trust wish to thank Wright-Hennepin Cooperative Electric for their wonderful gift.​​